Site Owners: Submit Your Site
Cat and other Pet-related Site Owners: Would you Like to Submit Your Site?
We are continuously looking for new cat, and other pet-related, websites to add to our Links and Resources page, or other best page. We invite you to submit your website to us for possible inclusion.
For quicker consideration, please choose one of the codes below and copy and paste "as is" (or very close to it) on your site.



Link Code #1
It should look like this on your site: 

My Healthy Cat – Your Practical Guide to Everyday Cat Care. Tips to keep your cat or kitten healthy and happy. 
Link Code #2
It should look this this on your site: 

Cat Health Information 
MyHealthyCat.com is your site for information about cat health and cat supplies. 

Then, please complete the form below. 

We will review your website as soon as possible (usually within 48 hours). If we include your site, we will notify you by e-mail.

Thank you!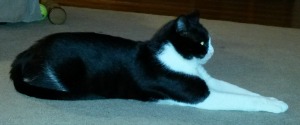 Buddy Stretching Out
If your site is not cat or pet-related, it will not be listed. Thanks!
Please do not waste your time and ours.
Didn't find what you were looking for?
Use the Search Box to find more feline info.


From Submit Your Site to My Healthy Cat home
---
If you suspect your cat is ill, please contact your veterinarian immediately.
The material presented in this site is for informational and entertainment purposes only. It is not intended to replace your veterinarian's advice.
Copyright 2003-2023 © www.myhealthycat.com
Sitemap | Contact Us | About Us | Disclosure | Privacy Policy
---