My Healthy Cat
Links and Resources
Find healthy cat information right away. Start here.
I hope you'll enjoy the following pet-related links and resources. Your feedback is welcome if you have any comments about these websites or if you would like to suggest a new link to be added to My Healthy Cat's Resources.
Website owners:

If you have a quality cat, or other pet-related, website and are interested in being including in our links and resources on this website, please visit our Submit Your Site page.

If you have a website and would like to link to us, please visit our Link to Us page.



Thank you!
General Cat and Pet-Related Sites
Bruning.com - A site dedicated to helping pets and animals get the medical treatment, care, food and shelter they deserve!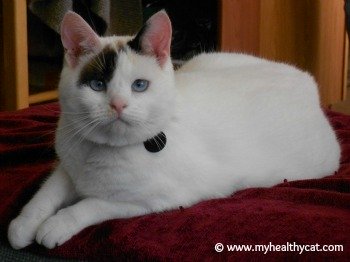 Beautiful Blue-Eyed Kitty
Didn't find what you were looking for?
Use the Search Box to find more feline info.


---
Go to the main My Healthy Cat Resources Page.
From Links and Resources to My Healthy Cat home
---
If you suspect your cat is ill, please contact your veterinarian immediately.
The material presented in this site is for informational and entertainment purposes only. It is not intended to replace your veterinarian's advice.
Copyright 2003-2022 © www.myhealthycat.com
Sitemap | Contact Us | About Us | Disclosure | Privacy Policy
---