A Healthy Cat is a Happy Cat!
Find healthy cat information right away. Start here.
Purrrr... How Sweet the Sound of My Precious Healthy Cat!
If you're a cat person, like me, and you share your home with a healthy cat or kitten, then you know the great laughter, companionship, and love your feline companion can bring to your life.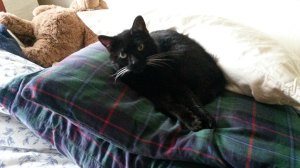 Neko Takes Over My Pillows!
If you're an experienced cat lover, you know the subtle differences between a seemingly aloof tomcat and a furry being of higher intelligence and discernment.
No matter what anyone else says about the feline species, cats rock!
And if your kitty sleeps in the center of your pillow at night and you're banished to a small corner, so what!
Or better yet, if the little furball sleeps on top of you and you can't get up in the middle of the night because you don't want to disturb him. Who cares?! This cat likes you!
How to Keep Our Feline Companions
Healthy and Happy
In exchange for the incredible pleasure and companionship a healthy cat brings us, we have certain obligations and responsibilities. Taking care of our kitties is one of our greatest purposes in life!
Your cat or kitten's continued health and happiness depend on the choices you make and the care you provide.
On a daily basis, our feline friends need lots of love, care, and attention to ensure a long and healthy life.
And, of course, we must provide our domestic cats with all of their basic needs.
Making the best choices for our cats and kittens every day is the best way to keep them (and ourselves!) healthy and happy.
So What's in this Furball Website?
New kitty parents, and long-time parents with new challenges, can find the cat care information they need to keep their cats or kittens happy and healthy.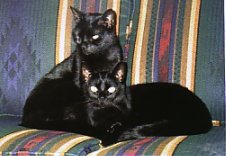 Keiko and Xela
It's all here: from how to make your home "cat-ready" to how to choose the best cat food; from choosing safe and interactive toys (and how to make some of your own) to the reasons our kitties scratch our best furniture (and how to protect it!); from cat pregnancy symptoms to preparing for a new cat or kitten and choosing a name; plus info on common cat health problems, and lots more feline findings and facts.
"Your Practical Guide to Everyday Cat Care" is written by a long-time cat "owner" who loves these furry little sweethearts more than anything!
Search MyHealthyCat.com
Use this Google Search Box to find what you're looking for right away.
Thank you for visiting and for taking good care of our precious kitties!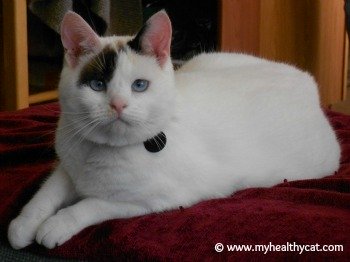 Beautiful Woody
---
If you suspect your cat is ill, please contact your veterinarian immediately.
The material presented in this site is for informational and entertainment purposes only. It is not intended to replace your veterinarian's advice.
Copyright 2003-2023 © www.myhealthycat.com
Sitemap | Contact Us | About Us | Disclosure | Privacy Policy
---