Contact Us
Contact us (well, really, just "me"; my kitty can't read or type!) with questions about this site, comments, suggestions, etc. Tell me what you think about MyHealthyCat.com and what other articles you'd like to see.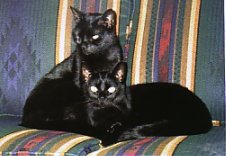 Keiko and Xela
I get emails every day with questions about cat health or stories about your favorite cats and kittens. I love to hear from you!

But please note, that I am a cat lover like yourself, not a veterinarian, and I cannot give you veterinary advice.
If you suspect that your cat or kitten is sick, please contact your trusted veterinarian immediately.
Please do not write to me asking for veterinary advice. 
If you don't have a regular vet, you can use the blue box below to contact a veterinarian and ask you question right away.

Use this link to learn more about us. Use the box below to contact me.
And don't worry. I will never, ever sell, trade or otherwise give your email address to anyone else. I promise!
From Contact Us to My Healthy Cat home

---
If you suspect your cat is ill, please contact your veterinarian immediately.
The material presented in this site is for informational and entertainment purposes only. It is not intended to replace your veterinarian's advice.
Copyright 2003-2023 © www.myhealthycat.com
Sitemap | Contact Us | About Us | Disclosure | Privacy Policy
---