Pyrethrins and Your Cat's Health
"This insecticide is considered 'non-toxic,' but you still need to be
careful when using it."
Pyrethrins in Flea Control Products
Flea control products containing this insecticide (natural pyrethrins, synthetic pyrethroids, allethrin, resmethrin, and permethrin) are labeled "non-toxic."
They are derived from chrysanthemums and are considered to be the least toxic to mammals of all insecticides, but they are still toxic. 
What Products Use Them?
This insecticide is found in both conventional and "natural" flea control products. It is mostly found in aerosol sprays, and also in flea shampoos and sprays. 
How Do They Kill Fleas?
These insecticides work by causing rapid paralysis of the insect nervous  system. Many fleas will die from this, but many also recover in a few hours, so repeat applications are necessary. 

Some products with these insecticides add other ingredients that inhibit the flea's detoxification process and increase the effectiveness. These include Piperonyl Butoxide, N-octylbicycloheptene, and dicarosimide E. These are not insecticides, but large doses may cause vomiting and diarrhea in your pet. 
Cat Allergies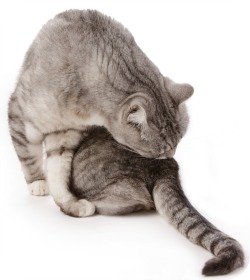 Cat at Biting Fleas
Some cats are allergic to these pyrethrins and can develop allergic dermatitis and systemic allergic reactions. Large amounts of the insecticide may cause nausea, vomiting, ringing in the ears, headaches,  and other central nervous system disturbances in your cat. These reactions are rapidly detoxified in your cat's intestines. 

Prolonged use may cause slight liver damage. And studies on mice have shown that permethrin may be a slight carcinogen. 

Consult your trusted veterinarian if any negative symptoms occur. Or better yet, consider using truly natural flea control products and methods to control and get rid of fleas.
Related Topics
Didn't find what you're looking for? Use this Search Box to find more information. Or visit the articles below.
Other Common Flea Insecticides - More information about commonly used insecticides in pet products.
All About Flea Control - Article with info on fleas and keeping your kitty safe from these parasites.
From Pyrethrins to My Healthy Cat home
---
If you suspect your cat is ill, please contact your veterinarian immediately.
The material presented in this site is for informational and entertainment purposes only. It is not intended to replace your veterinarian's advice.
Copyright 2003-2023 © www.myhealthycat.com
Sitemap | Contact Us | About Us | Disclosure | Privacy Policy
---