PETsMART Review
This PETsMart review was written in 2007. Please visit their website
directly for updated information.
Who are They?
Petsmart is a public company trading on the NASDAQ Stock Exchange since July 1993. It's one of the larger and older pet supplies web sites on the internet.
Product Selection
This popular pet supplies company carries hundreds, if not thousands, of different cat supplies, dog supplies, fish supplies, bird supplies, reptile supplies, and supplies for other small pets. Almost any type of pet supply can be found here.

Their website provides good photos and written descriptions of each of their products. 

The one thing that is clearly missing from this company's product line is prescription pet medications. Although, they do carry non-prescription medications. 
Prices
Prices are comparable to other online pet stores, with some items being more expensive and some less. 

Their cat furniture tends to be more expensive than other online pet stores. However, their shipping charges are a bit lower than cat furniture-only pet stores, so the final price for most large pet furniture items is generally cheaper.
Navigation Ease
Overall, this is a very easy site to navigate. A top navigation bar lists the types of pets you can shop for. A left navigation bar breaks down the types of products within the pet type. Sub-menus within the pet product type help you to narrow your search and find exactly what you're looking for. 

A search box on every page makes it easy to find pet supplies by product type or product name. 
Ordering Process
The ordering process is straight-forward. A shopping cart on every page  allows you to see the subtotal of your order and the number of products  ordered. Clicking on the shopping cart allows you to see the items in your cart.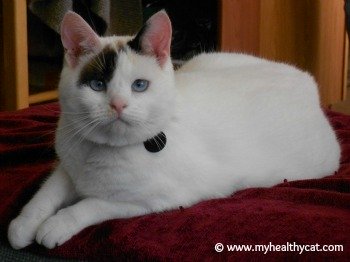 Shipping and Handling
A link to shipping charges is provided on each page so you can see how  much the product will cost to ship based on your total order. Some items (like cat food) will also have a shipping fee based on the weight of the order. 


They have a Free Shipping Shop where you can purchase many popular pet supplies and pay no shipping charges for ground delivery. 

They will not ship to some areas by ground shipping, and they have additional shipping fees to some areas. Be careful to confirm your shipping costs that they can ship to your location. 

Expedited shipping is available. 
Return Policy
PETsMART offers a "satisfaction guaranteed" policy. You can return products for any reason, although you will have to pay shipping costs for the return. If the return is due to an incorrect shipment, then they will pay the shipping costs.
Payment Options
This online pet store accepts Visa, MasterCard, Discover, and American Express. All prices are displayed and charged in U.S. currency. They do  not accept checks, cash or money orders for online orders. 
Contact Information
You can contact customer service by regular mail, email or by toll-free number. 
Privacy Policy
PETsMART has and extensive privacy policy and disclosure statement. They tell you everything they do with your information and their cookie policy. 


Personal information may be shared among the "PETsMART Family." However, information on orders from a catalog may be shared with outside companies unless you "opt out."

Your ordering information is encrypted using Secure Sockets Layer (SSL) for maximum security.

Please read their complete and extensive Privacy Policy for additional information.
Click here to go directly to Petsmart.com
Related Topics
Online Pet Stores - What to look for when buying from an online pet store.
Didn't find what you were looking for?
Use the Search Box to find more feline info.


---
If you suspect your cat is ill, please contact your veterinarian immediately.
The material presented in this site is for informational and entertainment purposes only. It is not intended to replace your veterinarian's advice.
Copyright 2003-2023 © www.myhealthycat.com
Sitemap | Contact Us | About Us | Disclosure | Privacy Policy
---