PetCareCentral Review
Note: In May 2007, PetCareCentral transferred all of its pet supply stores to Drs. Foster & Smith. Therefore, unfortunately, this pet store review is only for historical purposes.

Find healthy cat information right away. Start here.
What is PetCareCentral?
PetCareCentral was an online pet store based in Pennsylvania. They were owned by Neeps, Inc. This parent company sold pet supplies since 1994.

Product Selection
Product selection includes cat supplies, dog supplies, bird supplies, and pet supplies for just about every other small animal.

They have a huge selection of products, with many popular brands like PetSafe, Nature's Miracle, Cosmic, Sherpa, and Greenies.
Their website provides pictures of their pet products that you can enlarge, along with good product descriptions.
Prices
Prices are comparable to other online pet stores, with some items being more expensive and some less. They have a price-matching guarantee. So if you see a pet supply cheaper on another internet site, you can get it at Pet Care Central for the same lower price.
Navigation Ease
This online store has a clean, simple, easy to navigate site. A top menu lets you choose which type of pet you are shopping for. A left hand navigation bar lets you choose which type of pet supply you are shopping for.

A search box, or "find it" box on every page lets you search for specific product brands and types.
The one flaw I've noticed is that the "pet doors" under the cat supplies section takes you over to the dog supplies section! (Hopefully, by the time you read this, this small problem will be corrected!) No big deal though. They're all the same pet doors; just don't tell your cat!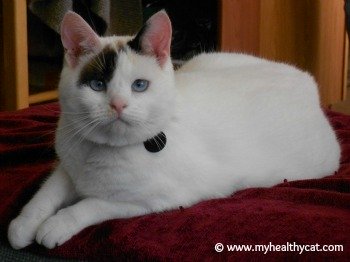 Former Customer
Ordering Process
This company uses "real time inventory." That means they let you know immediately if something you want is not available before you order it.
Shipping
This pet store offers free shipping on orders over $50 delivered in the U.S. Only $4.95 is charged for orders under $50. This fee is good no matter what the weight of your order. So you can even buy heavy things like cat food for this low shipping cost.

They tell you what your shipping costs will be before you confirm your order for pet supplies.
Return Policy
This online pet store allows you to return items for any reason, as long a certain basic conditions are met (e.g., include original packing material and return the item clean and free of pet residue). You'll have to pay the shipping cost to return the item, unless you were shipped a damaged or wrong item.

Be sure to email PetCareCentral to get a Return Merchandise Authorization number before you return the item.
Please be sure to read their complete return policy before ordering.
Payment Options
They accepts Visa, MasterCard, American Express, Discover, Diners Club, and JCB. You can also pay by PayPal, check, money order or direct wire transfer.
Contact Information
The website provides information so you can contact them by phone, fax, email or regular mail.
Privacy Policy
This pet supplies store has a complete privacy policy that states what they will and will not do with any information they collect about you.

They promise to never sell, rent, loan or otherwise give your information to any third party. They state, "All information submitted is considered confidential in nature and will not be disclosed to anyone except under a subpoena in a court of law."
However, they state that they may occasionally send you mailings through the mail. If you don't want these mailings, you have to notify them by postal mail.
Extras
PetCareCentral will match other internet stores' regular prices, including the competing pet supplies store's cost for shipping.

This extra feature helps to ensure that you always can get the best price at PetCareCentral, but you'll have to do some shopping around to confirm that you're getting lowest price.
Related Topics
Online Pet Stores - What to look for in an online pet store.

From PetCareCentral to My Healthy Cat home
---
If you suspect your cat is ill, please contact your veterinarian immediately.
The material presented in this site is for informational and entertainment purposes only. It is not intended to replace your veterinarian's advice.
Copyright 2003-2022 © www.myhealthycat.com
Sitemap | Contact Us | About Us | Disclosure | Privacy Policy
---