Hire a Flea Exterminator Who
Uses Only Safe Flea Insecticides
"Sometimes you need professional
help to eliminate these parasites."
Choosing a Professional Flea Exterminator
Choose only an experienced and professional flea exterminator if your flea infestation gets bad enough to hire someone to get rid of fleas in your cat's environment.
To find someone who uses safer flea control products, ask your veterinarian for recommendations, or ask other cat people you trust. 

If you can't get a recommendation, you can ask the person you're considering for references. Be sure to check them out. If he or she will not provide you with references, move on. This is too important to your  cat's health and yours. 
Ask about the Insecticides to be Used
The chemical insecticides your flea exterminator uses must not only be effective in getting rid of fleas, but must also be safe for you, your family, your cat or kitten, and other pets in your home. It's important to hire someone who uses the safest insecticides available.
Ask for written information about the product he or she plans to use in your home or in your yard. If he or she is unable or unwilling to provide this information and answer all of your questions, find someone else. 

Research the insecticides your exterminator plans to use and/or ask your veterinarian about these flea products. 
Do It Yourself?
Fleabusters is a good company and uses a natural flea treatment for your home. They have offices across the United States. Even though I've only ever had indoor kitties, I've had infestations severe enough to get outside help. This is the company I've used both times.

You can also buy the product they use, Fleabusters Rx for Fleas, and apply this professional treatment yourself. You can probably find it cheaper at Amazon.
Protecting Your Kitty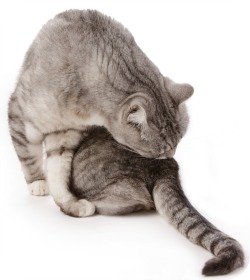 Be sure to take your cat and other pets out of your home and do not return until the recommended time period. 

If your yard (or a neighbor's yard) is being treated by a professional pest exterminator, do not allow your cat or other pets to walk in the yard until the yard is dry. You don't want your pet to lick the deadly ingredient off of her paws. 

You may also want to consider alternative methods of outdoor flea control, first. These methods will be safer for your cat and other pets who use your yard. Diatomaceous earth is a popular product used for outdoor problems.


Related Topics
Conventional Flea Control Methods - Everything you need to know about getting rid of fleas.
Didn't find what you were looking for?
Use the Search Box to find more feline info.


From Flea Exterminator to My Healthy Cat home
---
If you suspect your cat is ill, please contact your veterinarian immediately.
The material presented in this site is for informational and entertainment purposes only. It is not intended to replace your veterinarian's advice.
Copyright 2003-2023 © www.myhealthycat.com
Sitemap | Contact Us | About Us | Disclosure | Privacy Policy
---