Advantage Flea Control for Cats
"How does it work and
where can I get it cheap?
How Does it Work?
The active ingredient in Advantage Flea Control is called "imidacloprid." It works by killing adult fleas before they lay eggs. It also kills flea larvae within 20 minutes of contact. This breaks the flea life cycle and gets rid of fleas on your cat.
This product is a topical solution that you put on your kitty. Just a few drops on his or her neck will move throughout your cat's coat and provide whole-body flea protection (be sure to get it on the skin and not just your kitty's fur).
This is an excellent method of flea control when you need to get rid of fleas on your cat as soon as possible due to flea allergies. On the rare occasion my indoor cats have had over the years, this is the treatment I've used for them.
Imidacloprid is water-resistant. It continues to work even after you bathe your cat or she gets wet in the rain. It also continues to work after exposure to sunlight.
The best medicine gets rid of fleas in all of their life stages. Advantage Flea Control does this.
Unlike other insecticides, this one is effective enough to be the only flea control product you'll need. An insect growth regulator is not necessary when using imidacloprid.
How Long Does it Take to Work?
Advantage Flea Control stops fleas from biting your cat in 3 to 5 minutes after application. The fleas will start dying within one hour of application and 98 to 100% of the fleas on your cat will be dead in 12 hours. Reinfesting fleas will be dead within 2 hours.
This product is particularly useful if your cat or kitten is allergic to fleas and needs quick relief.
One treatment of Advantage will protect your feline companion from fleas for up to 4 weeks.
How to Apply Advantage Flea Control
These are the steps you need to take to properly apply this topical solution. The directions come directly from the manufacturer's instructions.
Remove one applicator tube from the package.


Hold applicator tube in an upright position. Pull cap off tube.


Turn the cap around and place other end of cap back on tube.


Twist cap to break seal, then remove cap from tube.


Part the hair on the neck at the base of the skull until the skin is visible. Place the tip of the tube on the skin and squeeze the tube twice to apply the solution directly on the skin. Do not get this product in your pet's eyes or mouth. The product is bitter tasting and salivation may occur for a short time if the cat licks the product immediately after treatment. Treatment at the base of the skull will minimize the opportunity for the cat to lick the product.


Discard empty tube by securely wrapping in several layers of newspaper and discarding in trash.
The manufacturer makes this medication available in packages of four or six tubes. (My veterinarian has sold me one tube at a time at an exorbitant price; it's much cheaper to buy Advantage online-if you don't need it right away.)
It comes in two dosage sizes. You'll have to weigh your cat to get the right dosage. The two choices are for cats nine pounds (4 kg) and under and for cats over nine pounds.
Be sure to use only Advantage for Cats, and not the medication for dogs. Do not use this medicine on any other animals as it's not formulated for other animals.
Safety and Toxicity
Advantage Flea Medicine has a lower toxicity than traditionally used flea control products, such as those containing carbamates or organophosphates.
Most veterinarians consider this to be a safe and effective method of flea control. (Of course, some natural flea control methods have no toxicity whatsoever, but they are not as quick-working as modern flea insecticides.)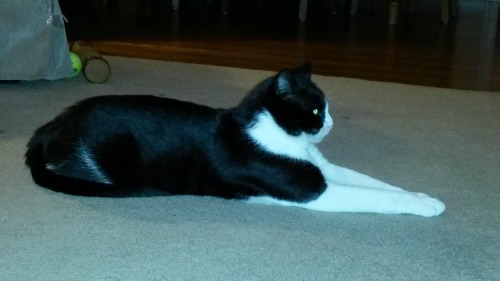 Buddy is happily flea-free
Safe for Kittens, Lactating Cats and Pregnant Cats
Advantage Flea Control is safe for kittens as young as 8 weeks old. It can also be safely used on pregnant and lactating cats. In fact, if your cat is still nursing, the kittens will be protected from fleas when the lactating mother cat is treated.
No Prescription Required
Advantage Flea Control is available without a veterinarian's prescription. You can still get it from your veterinarian's office (where it's usually a lot more expensive) or you can buy it online at a discount and save a lot of money.
Many larger pet supplies stores also carry flea control medicines that previously required a prescription, such as Advantage and Program Flea Control.
Related Topic
All About Flea Control is an article with information about conventional and alternative flea control methods.
---
Top Choices for Flea Medication Online
---
For transparency and disclosure, you should assume that all links on this page are affiliate links and that I do receive a commission if you click through and make a qualifying purchase.
That said, please note that I only recommend products that I believe in.
---
Amazon is a great place to by Advantage II Flea Control at steeply discounted prices. Plus, you can usually get free shipping for your pet medications as they often go over their minimum cost for free shipping. Be sure to get the right dosage based on your cat's weight.
Only Natural Pet Store is the best online pet store for natural flea control products and remedies. If you decide to go natural, this is the place to go.
Didn't find what you were looking for?
Use the Search Box to find more feline info.


From Advantage Flea Control to My Healthy Cat home
---
If you suspect your cat is ill, please contact your veterinarian immediately.
The material presented in this site is for informational and entertainment purposes only. It is not intended to replace your veterinarian's advice.
Copyright 2003-2023 © www.myhealthycat.com
Sitemap | Contact Us | About Us | Disclosure | Privacy Policy
---