My Healthy Cat's
Favorite Cat Beds
Here are some of our top picks for cat beds on the Internet. Before making a purchase for your cat, be sure to read our cat beds article. You can find out what to consider when choosing cat furniture for your cat or kitten.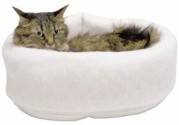 Mysterious Kitty Kuddler
Warm and cozy. Soft polyester fibers work as an insulator to absorb heat and keep your cat warm and cuddly. Electro statically charged-it traps pet dander, flea dirt, hair and dust. Fibers are 100% non-toxic, hypoallergenic and recyclable.
---
Kitty Print Berber for Cats
Your cat will feel comfy and cozy in this one. 19". Textured Berber fleece helps to keep cats warm in winter and cool in summer. Machine wash and dry.
---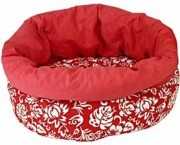 Companion Road Hawaiian Print Roll-Down Bed
Something flashy for you and your cat. 18" x 18". A plump, removable inner cushion adds extra comfort. Generous size accommodates most cats. Machine wash cold; air dry.
---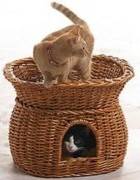 Wicker Furniture for Kitties
Give your kitty the added security of his or her own den. Includes a plump cushion for comfort. 17" w x 14" d x 13" h
---
Need more info on cat beds and pet furniture?
See our cat furniture page for more information. There is a list of the furniture that would be helpful to have for your feline friend, and even how to make some of your own to save money.

Didn't find what you were looking for?
Use the Search Box to find more feline info.


From Cat Beds to My Healthy Cat home
---
If you suspect your cat is ill, please contact your veterinarian immediately.
The material presented in this site is for informational and entertainment purposes only. It is not intended to replace your veterinarian's advice.
Copyright 2003-2023 © www.myhealthycat.com
Sitemap | Contact Us | About Us | Disclosure | Privacy Policy
---